My grandson turned 4 years old last week and he is so adorable. He celebrated his birthday at school and on Sunday we asked him what  he wanted to go  for his birthday. Without skipping a beat he shouted pancakes!! So it was IHOP birthday boys' choice for breakfast. There is always something new at IHOP, this time it is the mouth-watering Sugar, Spice & Everything Nice lineup includes:
Sticky Bun Waffle: Two thick Belgian waffle triangles drizzled with sweet maple glaze and topped with honey glazed pecans.
Red Velvet French Toast: One slice of rich, chocolaty, cake-like French Toast topped with cream cheese icing.
Cinnamon Roll French Toast: One warm cinnamon roll dipped in batter and grilled before being topped with cinnamon roll filling and drizzled with cream cheese icing.
We came for breakfast and so we ordered pancakes, french toast and eggs, fried, scrambled and omelet too. Everyone was in a birthday frame of mind.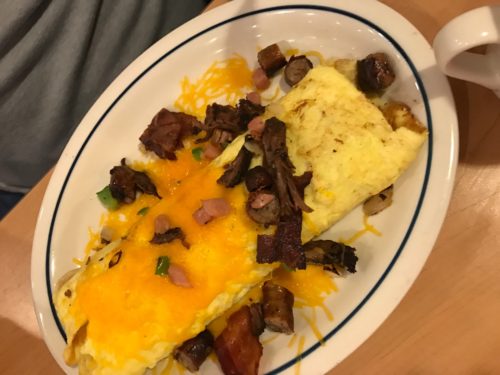 We stuck with our traditional favorites this time around  even though IHOP is offering the delectable trio of  freshly made signature dishes like French Toast and waffles include: Sticky Bun Waffles, Red Velvet French Toast & Cinnamon Roll French Toast!  For sure we will be back!!! 
The best part was everyone singing Happy Birthday and bring out a dish of ice cream,  whipped cream with a cherry on top. One happy boy!