Otis Spunkmeyer Chocolate Chip Super Cookie is super delicious.  Now Otis Spunkmeyer have been a consumer favorite for over 35 years.  However, Otis Spunkmeyer's cookies were only offered through their food service.  But now they have expanded their baked goods to grocery chains and have increased their line to an array of 20 treats.
One of which is Chocolate Chip SUPER COOKIE.  YUMMY!
 Chocolate Chip SUPER COOKIE is a giant, bakeable (9" diameter) cookie that comes in its own oven pan for warming. Available in chocolate chip and double chocolate chip.  This Super Chocolate Chip Cookie is not just super in size but super in taste.
 Otis Spunkmeyer's Chocolate Chip Super Cookie has a homemade taste.  Made with no artificial flavors or coloring, high fructose corn syrup or partially hydrogenated oils.
"NO FUNKY STUFF"
 This Chocolate Chip Super Cookie can be heated for a warmer cookie to bring the chocolate chips oozing out or  just dunk the cookie in a hot cup of tea to achieve the same ooz.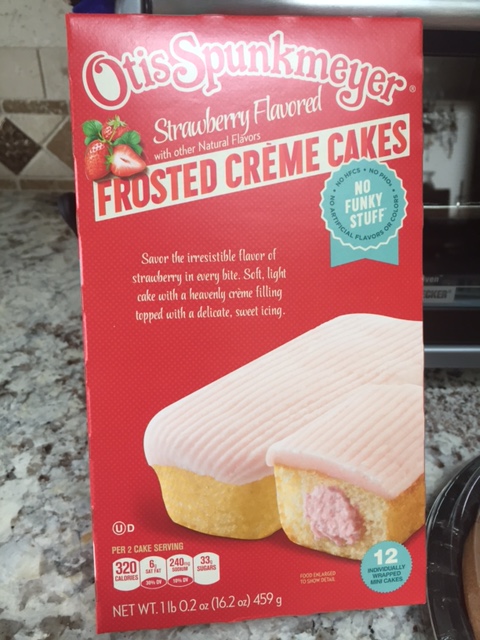 Otis Spunkmeyer Frosted Creme Cakes are also a "NO FUNKY STUFF" cake.  Filled with an irresistible strawberry flavor cream in every bite.
Each creamed filled cake is Individually wrapped.   Otis Spunkmeyer Baked Goods give you good cause to indulge.  Fluffy golden cake filled with sweet cream and a thick layer of vanilla or strawberry icing. Available in golden with strawberry, frosted golden, and chocolate frosted with caramel.

Otis Spunkmeyer Mini Loaf Cakes Moist, delicious cakes available in iced lemon and cinnamon crumb Delicious spongy cake with a sweet vanilla or caramel center. Available in golden crème and chocolate crème with caramel
Otis Spunkmeyer Crème Cake Delicious spongy cake with a sweet vanilla or caramel center. Available in golden crème and chocolate crème with caramel.

Otis Spunkmeyer Muffins

: These new muffins are made with real fruit! Available in blueberry and banana.

Otis Spunkmeyer Mini Muffins

: Mini bite-sized muffins for a lighter splurge! Available in blueberry, banana and chocolate chip.

Otis Spunkmeyer Mini Cupcake 

Otis Spunkmeyer Cookies

: Original treats now available in three classic flavors: Chocolate chunk, oatmeal raisin and double chocolate.

Otis Spunkmeyer Super Cookies

: A giant, bakeable (9" diameter) cookie that comes in its own oven pan for warming. Available in chocolate chip and double chocolate chip

Otis Spunkmeyer Frozen Cookie Dough