I have never professed to be a cook.  On the contrary.  However, I do need to cook.  Usually, it is always something that is easy to prepare, because I am usually always on the run.  Now, as a non-cook, I tend to always wait till the last minute to try something different.
Like recently, I came across this recipe – Chicken Marsala Florentine                                                                                       (Photo from Allrecipes.com)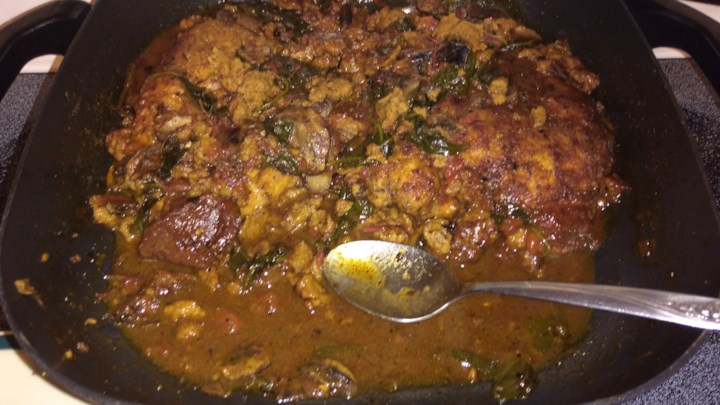 I decided to make it, but I did not have ALL the ingredients to prepare the dish. However, I did not let that stop me.  I was determined!  I had already defrosted the cutlets, and knew that it was a do now meal.It was a gamble.   I don't like to gamble.  But I forged on.
The recipe called for a few items, which I did not have, such as:  Marsala wine, cooking sherry, mushrooms, and sun-dried tomatoes.  Well, more than a few items, like really important items.   I searched my pantry in the hopes of finding one, or all items, but no such find.   I did  find a can of spinach in the pantry, that was a surprise to me because I cannot remember buying any canned spinach must have been on sale.  
Then I found a bottle of White Wine Vinegar, and thought, this could work in place of the Marsala wine and cooking sherry.    To replace the sun-dried tomatoes, I used a can of diced tomatoes.  The cooking began.
 The meal was completed.
Except for one problem.  I used too much white wine vinegar.  I like vinegar but not that much.  I knew this was Bad!   I had to fix the problem, my husband will not be a happy eater.
Google to the rescue.  To solve the problem of too much vinegar in a dish, one solution, add soy sauce to dish as needed. Soy sauce, I had soy sauce. It worked!  Chicken Marsala Florentine, well, not really, but it was a meal and over rice, it made a good meal.