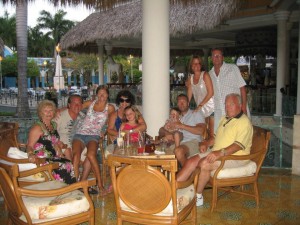 For my 60th birthday, as a gift to me,  I took my family on  vacation…It has been my dream for a long, long, very long time.
To be honest I was a little nervous about it.  See we are not exactly the Partridge Family or the Brady Bunch, I would say more like the Adams Family…see you never know who would just go totally berserk …and set up a hail storm of uncontrollable fire works…Like the one we almost had when we were checking in our bags at the Jet Blue counter.  Well, we were a little late and my parents bags almost did not get put on the scheduled flight…Why was this such a problem?  Well, remember the fireworks that could just go off…that would be my mother…you have no idea how she was screaming about wanting her money back if she was not going on this flight, see she thought the airline meant that my dad and her would have to take the next flight out…not the bags.
All I can say is,"Thank God for my daughter-in-law", Erin came over and took full charge of the situation  and began to explain, with great clarity, why the bags need to be on this flight.   Hurray!  Erin  convinced  Jet Blue  to do the best to get the baggages on the plane, and they did… PHEW!  One problem down.
Now we are off to the Dominican Republic.  It is true what they say about Jet Blue.  Plenty of leg room on board, and you get plenty of snacks. Christian had his own seat, I could not believe that they charged  full price for him…he did not even fill the seat up…  
Arrival at the resort, IberoStar, Costa Dorado.  Sophie happy to be away, and happy to get to be eating lunch.  Lunch which consisted of a few pieces of french fries and a quick I am not hungry comment…
Now I know how to get Christian's face to light up with glee…Give him a cup of Soda and watch him smile from ear to ear…SODA!  Yes, we are  on vacation.
The family spent every day by the resort pool…I tell you it is hard watching a two year old when you are by a very large body of water.  All we kept shouting was, "WATCH CHRISTIAN!"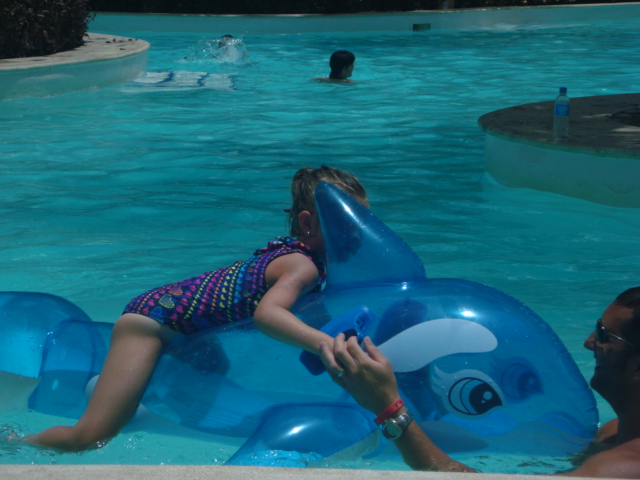 SHARK! SHARK!  Don't worry Sophie is riding him back to shore…I had no idea that fish, well very large fish, was her forte…Ride 'em fishgirl!
Yes, that is me with the hat and sunglasses, in the pool…I really hate the sun…you would not believe it, but that hat survived the water…better than me.
My parents enjoyed our family vacation soooo much…not a single complaint from my mother…who by the way is very hard to please…did I mention that earlier…
We did do some lounging on the beach…but we always drifted back to the pool…see Sophie just wanted the pool…and I agreed…hate the sand and no real fish in the pool.
Here they are my family.  They enjoyed our time together…we had such a grand time that we decided to do this again in 2 or 3 years…Be it God's will that it does happen again and it happens in  2 years.    I cannot wait to hang out with my very special people…I wonder where we will go next…I am thinking Jamaica…
mb