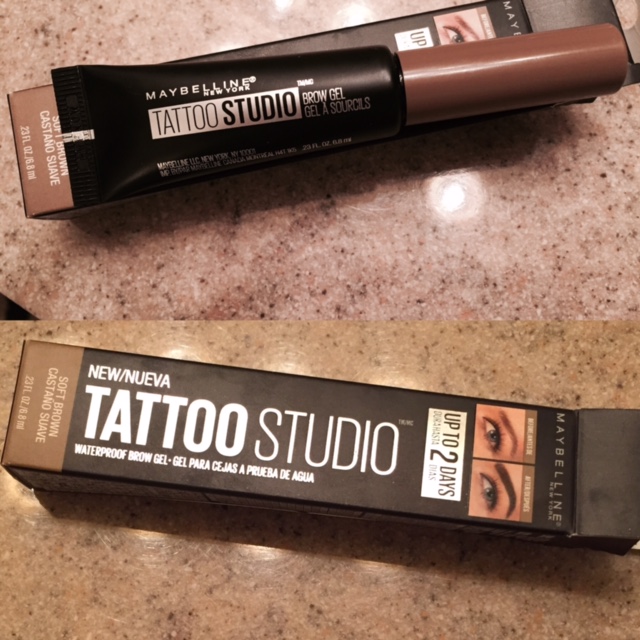 I think we all know what Microblading is.  Actually Microblading eyebrows is  no different than Tattooing eyebrows.  They are basically the same procedure.  Meriam Webster defines a tattoo as "an indelible mark or figure fixed upon the body by insertion of pigment under the skin or by production of scars." So, according to Meriam Webster's  definition microblading is tattooing.
I was seriously considering microblading my eyebrows but the out of pocket cost was an issue.  It did seem that I would be heading towards microblading my brows because my eyebrows were getting lighter, and thinner, by the day.  They seemed to be disappearing.  I was constantly filling them in with eyebrow pencil.   However, the problem would only be solved temporarily, like a few hours or so, and once you washed your face, poof!  All gone!
Then I saw the commercial for Maybelline's  eyebrow enhancer "Tatto Studio"
Tattoo Studio, a waterproof brow gel that would last up to 2 days!  Could this be the eyebrow gel that will solve my eyebrow problem?   So the hunt was on, and hunt I did.  But I wasn't the only one who wanted this eyebrow gel.  Tattoo Studio is a hot product.  Wherever I went it was sold out.   I did not despair, just kept hunting until I managed to find one left, just hanging there waiting for me, thank heavens.  It was the last one.  Color soft brown.  Wasn't sure if the soft brown color  would work for me but I was going to give it a shot.  I feared I would never find another one. It worked!  Tattoo Studio gave my eyebrows the definition.
Eyebrow au natural   
Eyebrows with Maybelline  Tattoo Studio
I'm so happy.  No longer will my eyebrows look skimpy.
Oh, by the way.  It's true.  When you wash your face your eyebrows still have their definition.  Good for the next day.  No longer will I have to go to the gym with undefined eyebrows. Tatto Studio by Maybelline your an eyebrow raiser.