Welcome to the world of CRY BABIES!
 Cry Babies by IMC Toys are adorable dolls that cry with real water tears.  Just add water and remove pacifier.  Cry Babies arms and legs also move for additional playtime fun!
 Cry Babies is a Finalist for the 2019 Toy of the Year Awards for Doll of the Year!!
 Cry Babies, Lea, a perfectly happy doll.  Until, you pull out her pacifier.
Boo-Hoo!  Boo-Hoo!
   Out flow the tears.
Don't cry baby!
With pacifier back in her mouth, Lea, once again, is a happy baby doll
.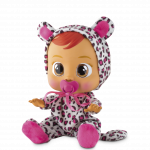 Welcome the world of Cry Babies   –  Lala, Coney, Katie, Lammy, and Bonnie.   Each Cry Babies toy comes with their own changeable cutisie, onesie.
With Cry Babies you can have lots of play time fun and games.  This season get ready to have a fantastic time with your favorite doll!
The Cry Babies line is available at Target stores and Amazon for $29.99.